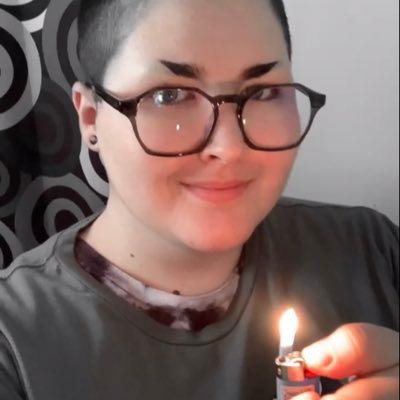 Moira Ashley (they/them) is a freelance graphic designer based in Arizona, specializing in merchandise design, music branding, and social media branding. Their start in graphic design began with making e-book covers for internet authors on websites such as Wattpad, and from there, Moira has spent the last eight years making hundreds of graphics for a vast clientele. What they lack in formal training, Moira makes up with dozens of on-the-job learning experiences, bad dad jokes, and an encyclopedic knowledge of Vine quotes at their disposal. When they aren't working on designs, Moira can be found listening to their favorite music*, honing their digital art skills, and attempting to cuddle the family cat who has made it very clear that he loves Moira but refuses to be held for more than a nanosecond. 
Currently, Moira is working with the independent record label 80/20 Records in Phoenix, AZ as the company's lead content creator, as well as the Los Angeles based non-profit Girls Behind The Rock Show as one of their Graphic Designers.
* = for those who were curious, Moira has made a playlist full of songs that they currently have on repeat.